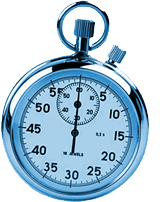 Thursday, April 26, 2018
Do You Carry Tracts?
You and I are in a fight for the souls of the lost. We are told to fight the good fight of faith. Are you armed for battle? Do you always carry Gospel tracts? They are bullets in your gun. So don't leave home without them. The enemy wants to shoot you to pieces. Here's how to enter combat. Walk up to the enemy. Give him a warm greeting. Say, "Good morning. How are you?" That will disarm him. Then draw! Whip out a tract and ask, "Did you get one of these?" The purpose of the "bullet" is to get him to surrender to your will. Your desire is to speak to him about God, and the tract will quickly get you there. So, get yourself a good reputation as one who is quick on the draw. There goes another minute. Gone forever. Go share your faith while you still have time.